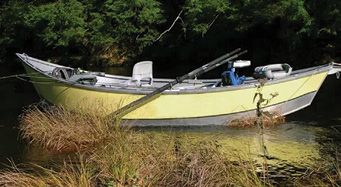 Drift Boats
Will accommodate a stern mounted anchor system
Reinforced bow and stern corners
ALL SEMI-CUSTOM COVERS INCLUDE TIE-DOWNS AND SHOCK CORD IN HEM FOR A CUSTOM FIT AGAINST YOUR HULL
IMPORTANT: To choose the correct semi-custom fit cover for your boat, you must know the beam width and center line length of your boat. Taylor Made semi-custom boat covers are designed to fit several makes and models of boats with same hull styles. This means that the windshield pocket is in the average position for this range of boats. Your boat may differ.
Fits open or closed bow style runabouts and low profile cuddy cabins
Curved glass windshields
Inboard or outboards
Includes extended/aftermarket swim platforms in overall length
Motor hoods sold separately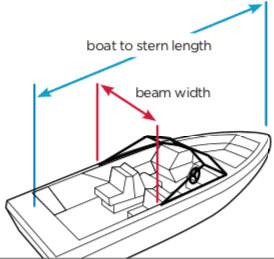 ---
ALWAYS MEASURE YOUR BOAT TO BE ABSOLUTELY SURE THAT YOU ARE GETTING THE CORRECT COVER FOR YOUR BOAT
Over the years, some boat manufacturers occasionally reuse boat model numbers or names. Boats with the same name or model number can actually vary in style or size.
To order your Trailerite® boat cover in Hot Shot™, use the Taylor pattern # with the letter O as a suffix, then the proper color code after the O
For example: 70215OT = Hot Shot™ in Teal.
The different color codes are as follows: Cranberry = Y, Hunter Green = F, Grey = G, Navy = N, Pacific Blue = B, Teal = T and Black = R
Extra care should be taken to protect your cover from coming into contact with sharp edges such as windshields, accessory brackets, or bow mounted electric trolling motors. Please pad these areas before installing your cover.

ASK US IF WE HAVE A CUSTOM COVER FOR YOUR BOAT
For help finding the correct cover for your boat use one of our easy services, call the Boat Cover Hot Line at
(800) 628-5188
or email us at
boatcovers@taylormadeproducts.com
Center-Line Length

Maximum
Beam Width

Pattern #

14'-5" – 15'-4"

84"

88112

15'-5" – 16'-4"

84"

88113

16'-5" – 17'-4"

84"

88114
Support Documentation
Explore manuals, videos, FAQs and more associated with this product.