With over a century of experience, we know what it takes when it comes to delivering top-quality solutions to our customers in the marine industry. From fenders that keep pontoons protected against the dock, to customized, tempered glass solutions that help keep boaters safe when they're navigating open waters — boat owners, custom builders, and original manufacturers can rely on our expansive engineering and manufacturing capabilities to meet their exact needs.
Our versatile, industry-leading team of engineers leverage their extraordinary amount of experience to meet the designing and manufacturing requirements of each Taylor Made customer.
From concept to completion, we work alongside our customers every step of the way to ensure the finished product meets both their specifications and standards. Because at the end of the day, our engineering team and the unrivaled services they provide are at the very heart of everything we do. Their decades of combined experience, along with an in-depth knowledge of the marine market segments, yield results that exceed expectations, over and over again.
Fueled by our relentless commitment for progression and innovation, as we grow, we'll continue to improve our processes and manufacturing capabilities — all so we can equip our team with the technology, tools and resources they need to build the products our customers deserve. Whether it's investing in technology like 3D printing or simply ensuring all of our processes are working seamlessly from design to quality control — Taylor Made will always strive to deliver the best products to the marine industry, from stem to stern.
3D Printing
In our continuous efforts to invest capital in technology that will enhance our engineering and design capabilities, Taylor Made Systems now has an in-house, state-of-the-art 3D printer. The Dimension Elite features the finest resolution of any Stratasys Design Series Performance 3D Printer. Driven by Fused Deposition Modeling (FDM) Technology, it prints in nine colors of real ABSplus thermoplastic — a production-grade thermoplastic that is durable enough to perform virtually the same as production parts.
This means that Taylor Made Systems can now print functional, durable 3D models of our most intricate product designs. It turns our 3D CAD files into models with fine feature detail; models that we cannot only examine, but test. The advantages that we now have in being able to print 3D product mockups and functional models are both exciting and eye opening.
Additionally, we are offering the services of our 3D printer to others. For more information, file requirements and cost, please contact us.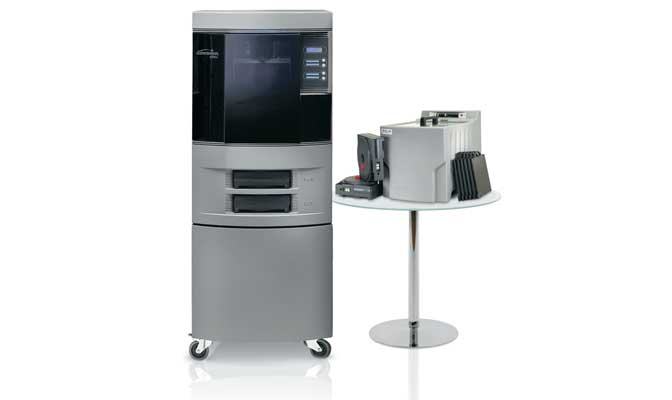 Glass Furnaces
Taylor Made Systems utilizes proprietary, in-house glass tempering and furnace operations at our facilities in Payne, Ohio and Templemore, Ireland. Our ability to transform raw glass sheets into curved, wraparound, tempered safety glass windshields gives boat manufacturers maximum design flexibility, providing a competitive advantage.
Ability to form complex shapes while maintaining superior optical clarity sets Taylor Made apart from the competition
Continue to add state of the art cutting, drilling and painting equipment necessary to out pace the constant evolution in customer designs
Jumbo glass manufacturing & handling
Bent glass in sizes up to 8.2' x 10' (2500 mm x 3048 mm), with a depth of bend of 2' (500 mm)
Flat glass in sizes up to 5' x 10' (1520 mm x 3048 mm) for glass that is thicker than .2" (4 mm)
3D solid design modeling integrates with direct generation of glass shapes
Unique capabilities have made us the ideal partner for some of the worlds leading OEMs
ISO 9001:2008 certified
Assembly
Even with state-of-the-art materials and manufacturing processes, skilled workmanship in assembly is still a necessity to provide consistent, high-quality products that meet, and exceed, customers' demands.
Taylor Made Systems is proud that we have a wealth of experienced associates that have been with our company for 20, 30, even 40 years or more! Their abundance of knowledge when it comes to integral production processes like the bending of glass and metal, the accurate quenching of tempered glass, the welding and polishing of stainless steel, or the exact chemical applications necessary for bonding saltwater-bound glazing systems — just to name a few — is, as the commercial says, "priceless."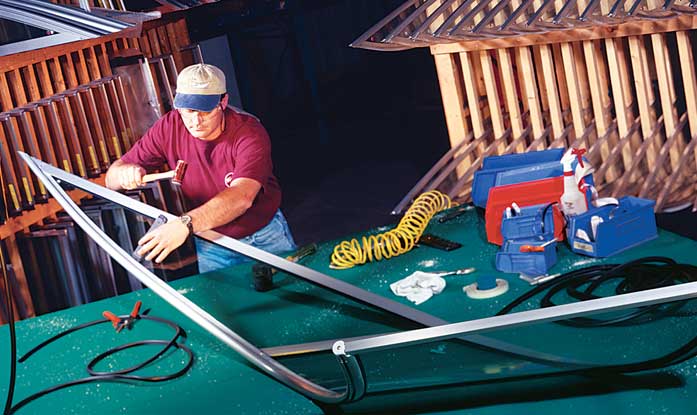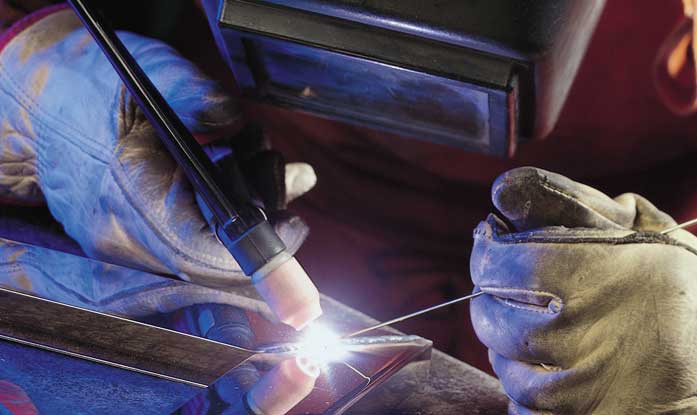 Stainless Steel Welding
Taylor Made Systems pioneered the welding of stainless steel, including 316L, which ensures an exceptional product on a consistent basis. Our in-house welding shops are equipped with state-of-the-art tig welders, capable of welding any size aluminum extrusion. Today, Taylor Made is one of very, very few glazing suppliers capable of in-house welding. Welded products include:
Front and side windows
Sliders and hinged vents
Electric, pneumatic or hydraulic drop/sliding windows
Hidden frame flush glaze systems
Power roof systems
Powder-Coated Finishes
Utilizing proven powder-coating technology, Taylor Made Systems can provide an exact color match in a variety of durable, corrosion-protective finishes. Whereas our competition buys their metal extrusions pre-painted in 10 ft. to 15 ft. lengths, we've invested in the equipment necessary to post-paint all of our trim in-house, after it's been cut and fully machined. The difference it makes is easy to imagine.
Maintain all of the latest technology to provide the most durable finish possible for the environment our products are used in
Post-paint all parts, preventing cracks, leaving no exposed aluminum
Super-durable class powder paint, with the ability for a wider range of finishes (clear coat, high gloss, 2-tone schemes, textured finish, etc.)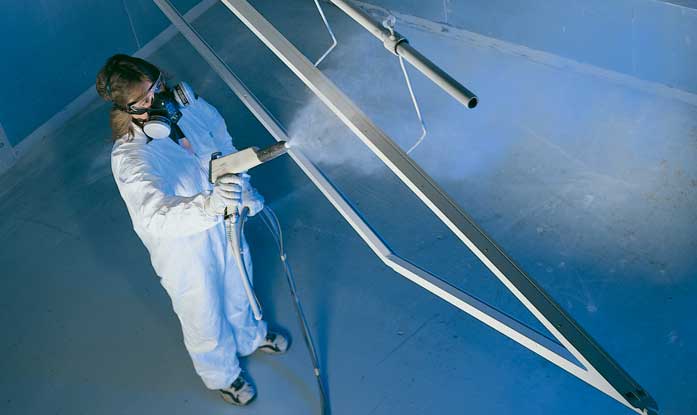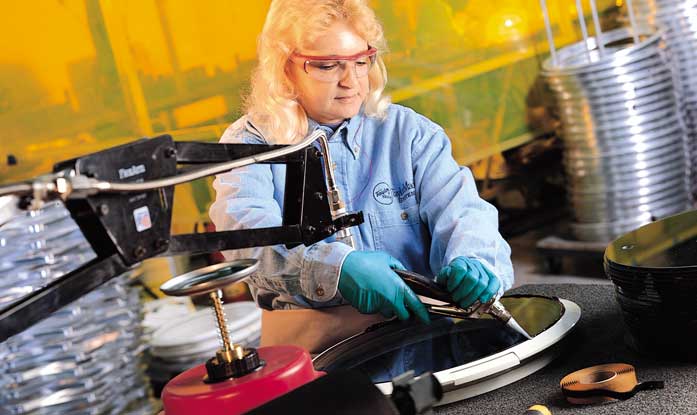 Lean Manufacturing
About 10 years ago we created a Manufacturing Engineering group with an emphasis on continual improvements using LEAN manufacturing techniques. The team has focused on efficiency improvements, set up time reductions, cycle time improvements as well as scrap reduction. Using capital investments, Kaizen events and "5 S" techniques in multiple areas of each of our plants we have created visual pull manufacturing systems which focus on eliminating wastes.
These LEAN initiatives have produced several thousand square feet of available factory floor space and allowed new projects such as the Integrated Tower-Windshield, Ultra III hatch, Engineering design center and the CNC machining centers to be installed without adding additional structure to our factories.
As with all LEAN manufacturing operations this is a continual process for all of our manufacturing operations and we will continue to identify wastes and apply necessary resources to reduce or remove any non-value-added activity.
Following are examples of the improvements our Manufacturing Engineering group has made:
Stainless Steel Production Cell
80% reduction in Work in Progress (WIP)
25% reduction in factory floor space
Machine set up time less than 5 minutes for all machines in the cell
Overall cycle time (from raw material to finished goods) reduction from 14 days to 18 hours
Door Department Production Cell
50% reduction in WIP
30% reduction in floor space
Overall cycle time reduction from 7 days to 2.5
Rigid Quality Control
Adherence to rigid quality standards is necessary in order to meet the demanding application requirements of marine glazing systems. Taylor Made has taken this to great lengths by becoming one of very, very few glazing suppliers that is ISO 9001:2008 certified. Additionally, we have a Quality Assurance Team in place lead by a veteran from the Automotive Industry.
Furthermore, to ensure the high quality of our products, Taylor Made is committed to rigorous testing. Our numerous tests include, but are not limited to, the following:
Salt spray testing: All powder-coat is "post" applied in-house and tested to withstand 1000 hours of salt spray, as are all supplied parts
Slam/shake testing: Design to simulate a degree of abuse far beyond real world conditions
Pull-testing: Digital read-outs assess the strength of parts integrated together
Water testing: High pressure hose and spray system to simulate hurricane type forces
Robotic Assistance
Perfect for high-volume applications, our robot-assisted assembly cell shows that Taylor Made is committed to capital investments in the right technology for the right applications. Use of the robot insures that rigidly measured amounts of adhesive will be precisely applied to exact areas of the glass. As time goes on, robot-assisted assembly at Taylor Made will increase, as we continue to invest in technology that enhances our workflow and improves our products for our customers.